MDASF - Ten Keys to Achieving Excellence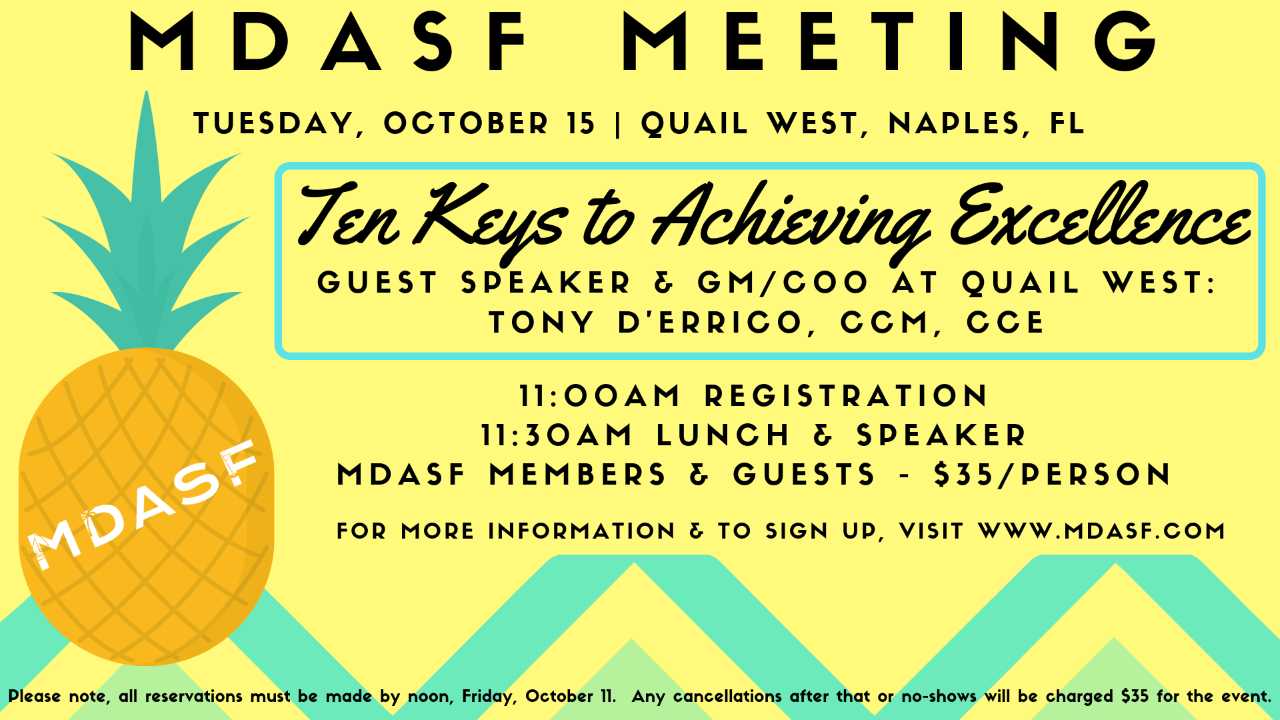 Featuring Guest Speaker, Tony D'Errico, General Manager/COO at Quail West Golf & Country Club presenting:
'Ten Keys to Achieving Excellence'
You will not want to miss this meeting! Get 'geared up' for season in this fun-filled and motivational session with Tony D'Errico.
Sign up today and join us!
When: Tuesday, October 15, 2019
11-11:30am Registration
11:30am Lunch & Speaker

Where: Quail West Golf & Country Club
5950 Burnham Road
Naples, FL

Who: MDASF Members & Guests

Cost: $35/person
NEW TO MDASF - Pay with Credit Card at the Meeting! $40 per person

Please note, all reservations must be made by noon, Friday, October 11. Any cancellations after that or no-shows will be charged $35 for the event.
MEET OUR GUEST SPEAKER:
TONY D'ERRICO, CCM, CCE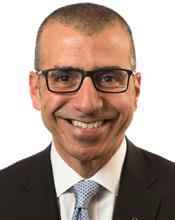 Tony D'Errico, CCM, CCE, is presently the Chief Operating Officer of Quail West Foundation in Naples, FL. Previously, D'Errico served as the GM/COO of Westwood Country Club in St Louis, MO since 1999. He has been a professional member of CMAA since 1993, joined the Board of Directors in 2007 and served as the National President in 2015 and Immediate Past President in 2016.

On the chapter level, D'Errico is involved in the Florida Chapter, most recently serving as a member of the Board of Directors. During his time in Missouri, he served as the Vice President and President for the St. Louis District Chapter. Prior to his time in St. Louis, D'Errico was active with the Carolinas and Florida Chapters of CMAA as a Regional Director. Mr. D'Errico has also served on CMAA's Club Foundation Board of Directors.

Mr. D'Errico is an adjunct facilitator for several allied associations and a volunteer of his community church. He's been a guest lecturer for the University of Central Florida, University of South Carolina, University of Missouri and Forest Park Community College for club management programs.

Tony D'Errico is a dedicated family man with a passion for golf, tennis, classical music and wine. He and his wife Jenny have been married for 30 years and have two adult children, Nicholas, 28 and Michael, 24.